POLICY A35 in Local Plan
A residential led mixed use development, allocated for:
1) Approximately 2,000 homes
2) Approximately 100 sheltered/Extra Care homes
3) 8 Gypsy and Traveller pitches
4) Approximately 3,300 sq m of employment floorspace
5) Approximately 1,100 sq m of retail
6) Approximately 1,050 sq m in a new Local Centre (A2 –A5)
7) A primary school (D1) (two form entry) and
8) A secondary school (D1) (four form entry)
Requirements for Transport
1) Primary vehicular access to the site allocation will be via the A3 Ockham interchange
2) A through vehicular link is required between the A3 Ockham interchange and Old Lane
3) Other off-site highway works to mitigate the impacts of the development, including schemes to address issues:
a) on the A3 and M25 and at the M25 Junction 10/A3 Wisley interchange
b) on B2215 Ripley High Street
c) at the junctions of Ripley High Street with Newark Lane/Rose Lane
d) on rural roads surrounding the site
e) at junction of Old Lane with A3 on-slip (Guildford bound).
4) The identified mitigation to address the impacts on Ripley High
Street and surrounding rural roads comprises two new slip roads at A247 Clandon Road (Burnt Common) and associated traffic management
5) A significant bus network to serve the site and which will also serve Effingham Junction railway station and/or Horsley railway station, Guildford and Cobham.
6) An off site cycle network to key destinations including Effingham Junction railway station, Horsley railway station/Station Parade, Ripley and Byfleet
Note - The illustration comes from the GBC Strategic Sites SPD.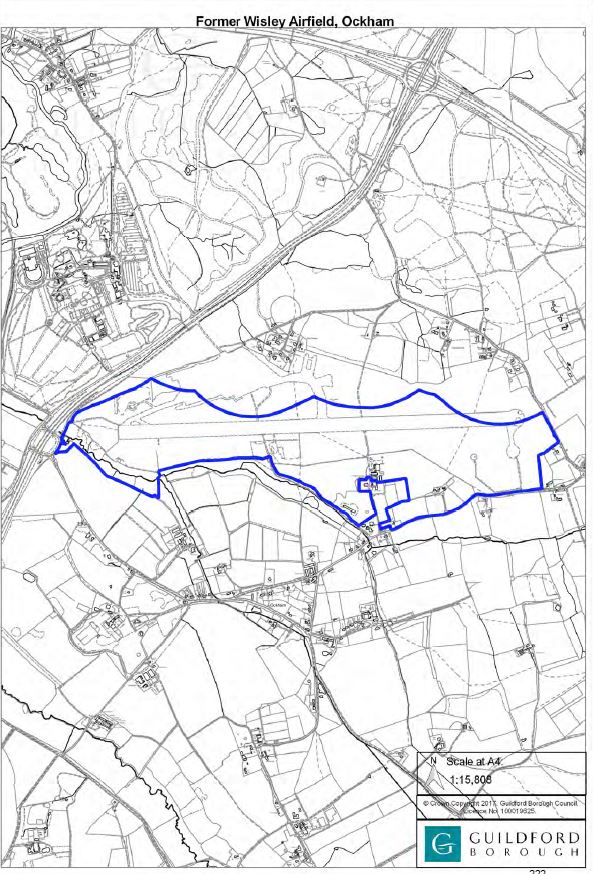 Current Status
Consultation
Consultation is underway with the public and stakeholders. The developer is Taylor Wimpey who have a website with current information on progress.
The Consultation has covered many topic areas. The Society has extracted key slides that show current proposals.
Outline for plans for the Site
Comments from Design Panel South East
Planning Application
The developers have submitted two planning applications to enable:
a) Initial work to create the SANG area for the site
b) An application to build access roundabout to be delivered as part of the M25/A3 junction works due to be conductd by the Highways England.
The M25/A3 junction works is as yet not approved - Highways England expect approval 12th January 2021.
At present the Slips at Burnt Common have been delayed into a post 2030 programme by Highways England.
Transport Proposals - The Society Responds.
The developers have produced further details of all modes of transport both within the site and without the site. In response the Society has sent a reply that you can read here.
Images