Redevelopment of No1 Farnham Road
Use
Windfall Site
Two additional floors added to existing Office Block
Status
Plans submitted 23/P/00764
Scale
8,906.7 SQ/M compaerd to 3,458.3 SQ/M currently.
5 Floors compared with 3 Today. There is also a lower ground floor, used for parking that is also used by both schemes.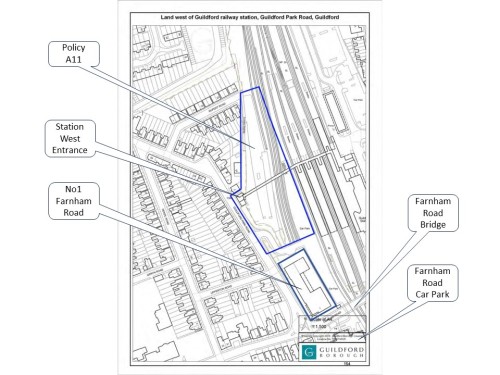 Architect
Anomaly (London)
Comment
The site at No1 Farnham Road is a windfall site and not covered by any LPSS2019 site policies however it must be noted it is adjacent to the LPSS2019 Policy A7 (See details linked below) that covers a large area of the western side of the station. The site is also adjacent to the corner of Guildford Park Road and Farnham Road and t Farnham Road on the Farnham Road Bridge.
We have argued that it is time for some strategic planning of the west side of the station. See post linked below
Although believes providing high quality office accommodation in the Station Area is to be welcomed as proposed in the Guildford Economic Development Strategy approved 22-2-2023; we would urge this development is placed into the context of a strategic plan for the west side of the station.
Images