Black and White Building Shoreditch
The Office Group a few months ago opened a new mass-timber office building the 'Black & White Building' in Shoreditch. Waugh Thistleton Architects designed the building, which is claimed to be currently the tallest mass-timber building in London at 17.8 Metres tall, it is built from a combination of beech, pine and spruce timber, with a slatted tulipwood facade.
The 4,480-square-metre building is constructed from prefabricated components that were precision-engineered to be slotted together. This also means the building is dismantlable and can be disassembled rather than demolished at the end of its life with its materials reused.
Concrete is used for the foundation and lower ground floor, with the rest of the structure constructed from cross-laminated timber (CLT).
Curtain walling was made from glued laminated timber (glulam), while columns and beams were constructed from laminated veneer lumber (LVL), which the studio said helps save on space.
Using engineered-wood materials rather than a traditional concrete and steel structure, the building saves "thousands of tonnes in CO2" as it generates much less greenhouse gas.
Interior of new offices above, more photos in gallery at foot of post..
The development has been included in the Construction News - Low Carbon Project of the Year 2023 Shortlist.
More details can be found in this article
100 Grays Inn London.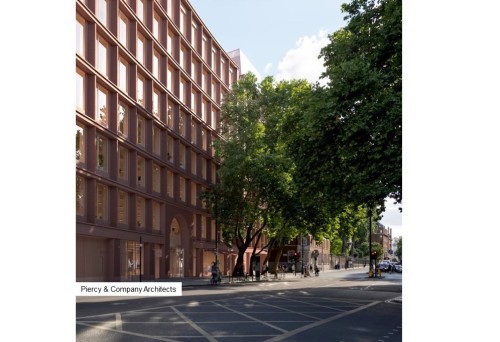 Astrea have got permission to build what's thought to be the first tall exposed timber building in the UK to achieve Building Control compliance following last year's changes to fire regulations.
Piercy&Company Architects have designed a nine-storey scheme on the site of the former Holborn Town Hall at the corner of Gray's Inn Road and Clerkenwell Road will feature a glulam frame with cross-laminated timber slabs. The interior will feature an exposed timber frame with exposed timber floors and soffits.
The existing building's basement car park and basement slab substructure will be retained in the 13,900m² project, which also includes the refurbishment of a mid-20th-century building, 88 Gray's Inn Road, which sits behind the street frontage.
The building will use 100 per cent renewable grid electricity and feature rooftop photovoltaic panels, all-electric heating, hot water, and cooling systems, as well as demand-driven displacement ventilation to the office floors.
Complying with new strict fire regulations
An innovative approach to compliance was required due to an awareness that current fire safety standards would not adequately cover the design of exposed combustible structural materials, including engineered timber.
The project needed to adopt a first principles, 'deterministic' approach to proving fire performance, based on detailed calculations and a focus on upfront design. This involved proving the timber surfaces would auto-extinguish without loss of stability or fire compartmentation by thorough testing of the timber planks and junctions with the steel frame. The final design has been assessed and approved by third party reviewers RISE Sweden, Sweco Building Control and the London Fire Brigade, ensuring that the building will meet the highest safety standards.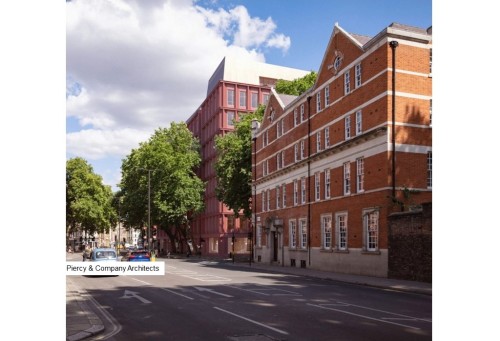 Images