Mount Browne and University of Law
Two adjacent sites Policy A33 and A34 in the Local Plan. Both are previously developed sites in the Green Belt. The Law College is also the site of Braboeuf Manor Grade II listed Manor house, currently administration block for College of Law. The house is late c16, circa 1590, with C19 front and C20 extensions to left and rear.
See Listing
.
Mount Browne - Currently Surrey Police HQ
The site is allocated for approximately 116 homes, including some self-build and custom house building plots (C3)
Requirements
(1) Provide positive benefit in terms of landscape and townscape character and local distinctiveness and have regard to the identified landscape character areas (2) Have regard to the character of the adjacent conservation area and views in and out of the River Wey Conservation Area
It is noted that key considerations are:
(1) Area of Outstanding Natural Beauty
(2) Sustainable transport given the site's proximity to Guildford Town Centre
(3) Proximity to SSSI
(4) Adjoining ancient woodland
(5) Adjacent to St Catherine's Conservation Area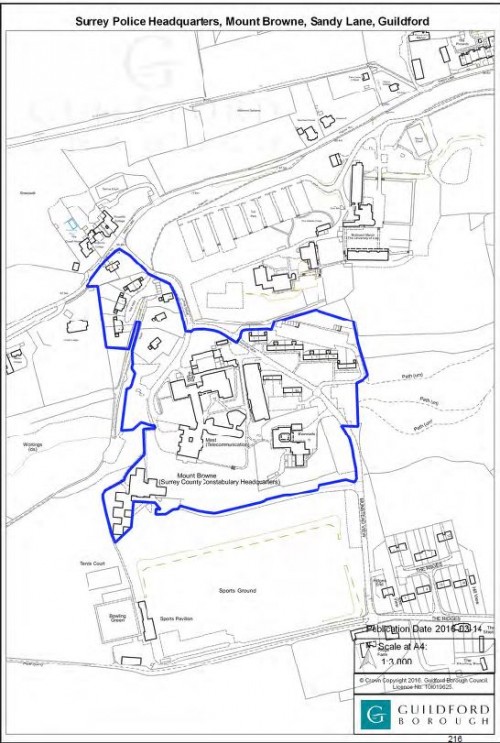 University of Law
The University of Law, Guildford
Allocation on Area of 0.7 ha
The site is allocated for approximately 112 student bedspaces
Requirements
(1) Significant regard to height of buildings with specific regard to the setting of the Grade II listed Braboeuf Manor
(2) Retain some parking on site, sufficient to meet day to day operational needs
Opportunities include
(1) Green corridors and linkages to habitats outside of the site, given the site's proximity to ancient woodland and trees
Key considerations
(1) Impact on landscape (AONB)
(2) The site is within the curtilage of Braboeuf Manor which is a Grade II Listed building and also within the St. Catherines Conservation Area
(3) The development may impact on some trees which could potentially provide habitat for bats, nesting opportunities for birds and foraging areas for badgers (4) Provision of car parking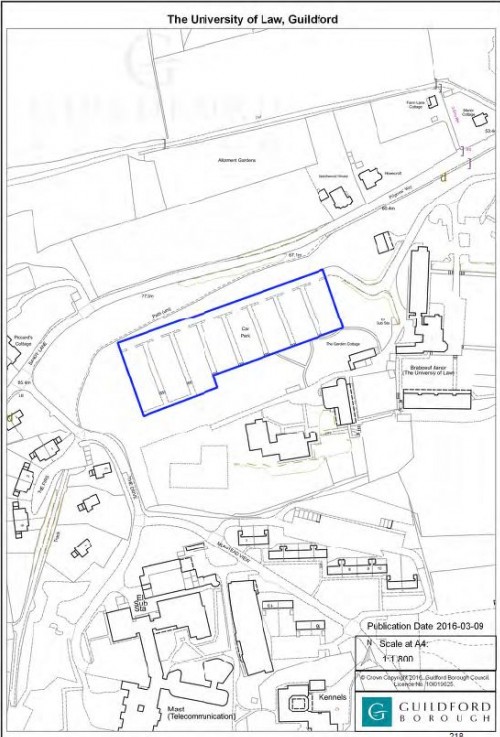 Current Status
The situation with the two sites is unclear. What is apparent is that a) The University of Law are considering moving out of the site entirely and redeveloping substantail parts of the site and hopefully improving the setting of the manor house. b) Recent press reports have indicted the Police HQ may not be moving and a redevelopment is now being reconsidered. c) There has also been press speculation that Guildford Borough Council might move onto the site. d) It is know that the Law College Site and the Mount Browne Site have been in contact so potentially a overall plan may emerge.