Short List Multiple Homes
30 HOMES AND OVER
Bankside Student Living, Walnut Tree Close, Guildford
Client: Sladen Estates & Peveril Securities
Architects: 5plus Architects
The scheme contains 361 student dwellings and creates a distinctive new 'edge of town community' with a four large pavilion buildings linked with landscape gardens. The scheme with 4,5 and 6 storey buildings, forms a strong urban edge to the town and road while creating openings and set backs to the more rural River Wey aspect to the east. The buildings have been conceived to be indigenous in materiality and in reference to former warehouse and working buildings typical in the town centre elsewhere on the River Wey navigation corridor.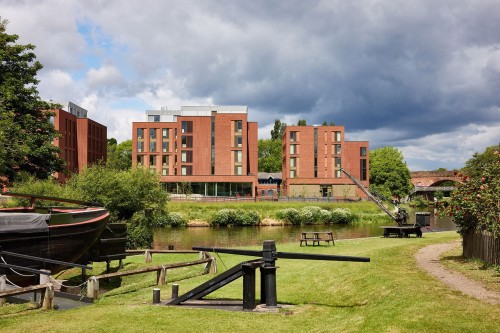 Riverside House, Walnut Tree Close, Guildford
Client: Unilife/Big Sur Properties
Design and Build: Stelling Properties Ltd
Unilife's Riverside House is purpose built, student accommodation with 99 studio rooms, half of which have views over the River Way which it borders. With a focus on sustainability the 6 storey building is built on a brownfield site using modular construction allowing rapid building on site with minimal waste. An embodied carbon assessment was undertaken throughout the project proving a 25% reduction in carbon compared to traditional construction.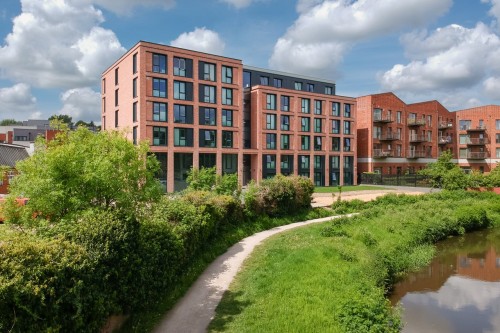 UP TO 30 HOMES
Alvaston, Clandon Road, Guildford
Client: Runnymede Homes
Architects: SCd Architects
Occupying a wedge-shaped site, originally containing a single house, the three-storey building with a recessed fourth floor contains 4 one-bedroom and 10 two-bedroom apartments with secure basement parking. The site lies adjacent to the railway in a cutting and borders a Conservation Area. Being on high ground the design maximises the benefits of the site with apartments main living spaces carefully located to provide views across Guildford. Its contemporary design adopts references from the materials and details reflected in the local architecture. Visual impact is reduced by a series of setbacks in the block, stepping and recessing floors, and using a variety of complementary materials.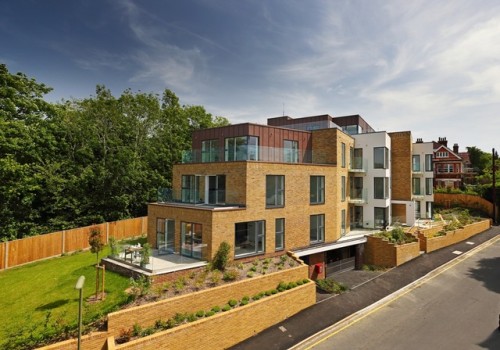 11 Annandale Road, Guildford
Client: Levanter Developments
Architects: SCd Architects
This new residential scheme comprises 12 one bedroom apartments for key workers on a complex sloping corner site originally occupied by a single house. The design which is part 2 and part 3 storeys, was developed following analysis of the typography, combined with the scale and massing of neighbouring properties. Initial design studies showed there was an opportunity to increase the built form within the site without being overbearing or out of character to the wider area. Due to the site constraints the apartments are all single aspect. The modern design theme reflects the materials and character of the local vernacular architecture. The use of gable ends to each of the building projections creates a strong visual character to the building.