Guildford Design Awards 2023
16 August 2023
Short List Individual House
Devon Bank, Guildford
Client: Annabel and Chris Agace
Architect: Mark Hillier Architect
Interior Consultant: Peter Waters
Located on a very constrained and sensitive urban site this L-shaped house wraps round and encloses a garden courtyard with a second courtyard creating the entrance space off the road. From this entering the house reveals an interesting and carefully designed sequence of interrelating spaces of differing scale each having contrasting views to outside. The client brief, successfully achieved, was for a low energy, sustainable and adaptable house with warmth communicated through texture and colour. The house has part single and part two storey sections with mono pitch roofs and brick and timber elevations.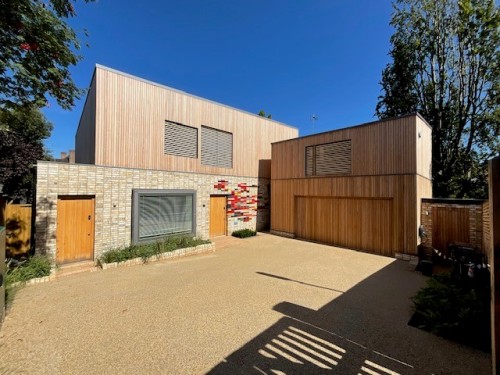 Fort Road, Guildford
Client: Mandy & Chris McAleese
Architects: Lytle Associates Architects
This new sustainable two storey house is located on a sloping site into which it is built, presents a timber clad single storey appearance on the road, entrance frontage. It occupies a site of a previous bungalow and maximises the benefits of the site, with extensive views to the south over the Surrey Hills ANOB. The lower ground floor of the house, facing the garden, is clad in Roman bricks emphasising the horizontal form of the house
Large glazing to living spaces on both floors maximise the views. The height of the building is visually reduced by use of butterfly roof (pitching outwards).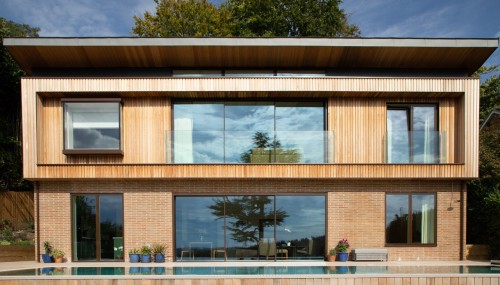 Shere Road, West Horsley
Client: Monica Heilpern
Architect: Monica Heilpern Architect
Sitting in Surrey Hills facing the Sheepleas woodlands, this contemporary family house replaced a 1920's bungalow. Fundamental was integrating the house with the landscape; incorporating large windows to bring the outside to the inside; creating a continuous living space visually connected to the garden and fields beyond. The site constraints dictated a horizontal oriented spatial form; two longitudinal volumes define the public and the private wings of the house and are articulated by the entrance hall as the central axis with the staircase as a vertical element. Designed as an internal mini 'journey', the occupants are taken through a series of interlinked spaces where the layout and interplay of volumes provide an outward view from every room with a different perspective when moving from space to space.